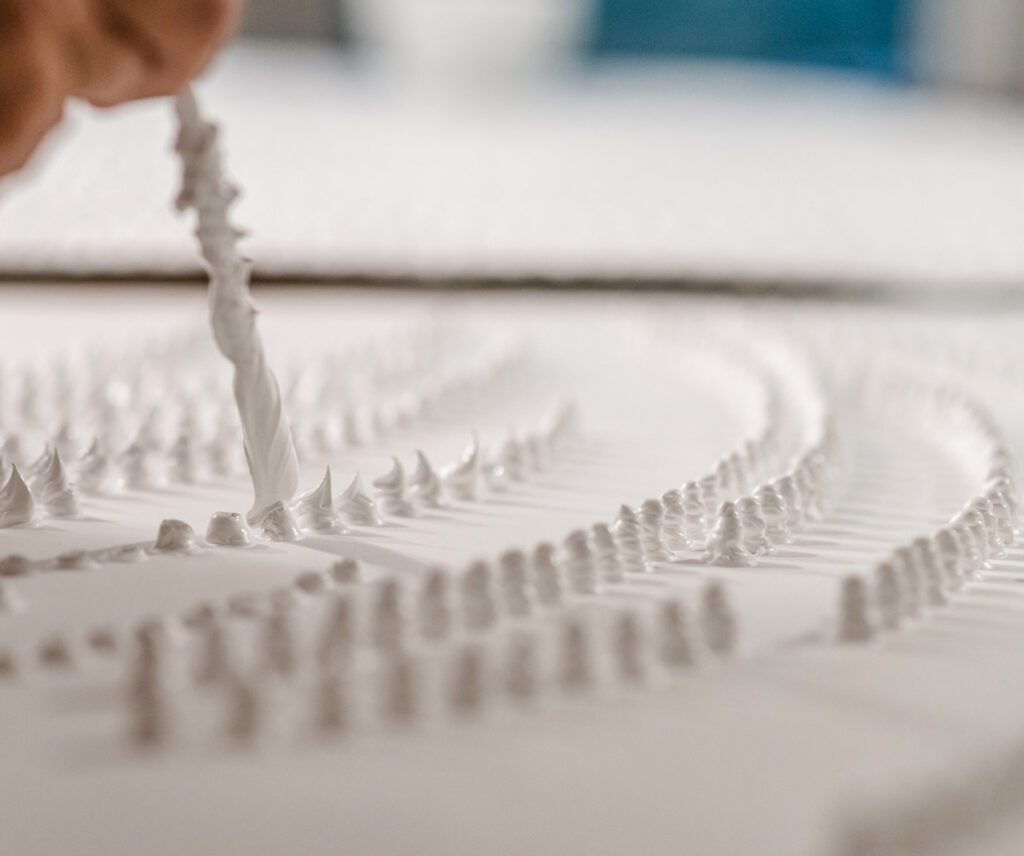 Getting rid of the too conventional paintbrush, she pioneered her own technique of laying the paint down on the canvas with the tips of her hairpins.
Jane designs each droplet individually, like a miniature building made of acrylic paint, layer by layer, with some droplets being made of up to twenty layers. She works on flat-laid canvas, which are then fitted onto a made-to-measure frame.
As her techniques and work evolved over the years, the droplets gained in height, and the polychromatic aesthetics was abandoned in favor of blue or white monochromatic paintings.
Each droplet is like an atom, a particle. The whole of them constitute a form that is constantly in motion, moving with the shadows appearing across the day and with the lights of the night.
Light and shadows have become essential components of her latest productions. When the skimming light becomes the only source of illumination, the shadow of each droplet creates a creative movement on the empty parts of the canvas, a movement that constantly renews itself. The paintbrush becomes a sort of prolongation of the painting, providing it with fleeting shadows that cross, pass each other and change shape according to the structure of the droplet.
The intensity of the dark shadows as well as their sizes — never identical — provide the painting with an unexpected depth, and their slow appearance brings it to life. With zen-inspired aesthetics, her works, perpetually mutating, begin a new life when, as night falls, they are animated by artificial light.
Today, Jane thinks about each series of paintings the way she designed her clothing collections. The preparatory drawings are an essential step as they enable to decide on the whole series of paintings which will echo each other with the same writing process: droplets; and the same theme, life.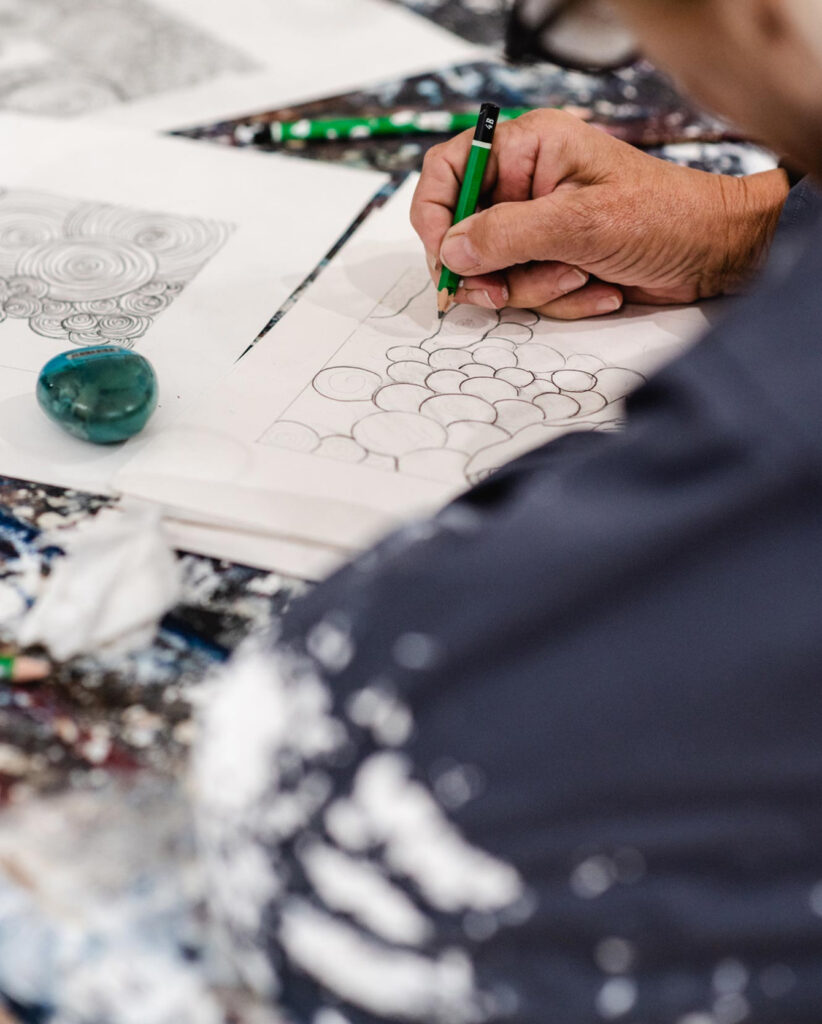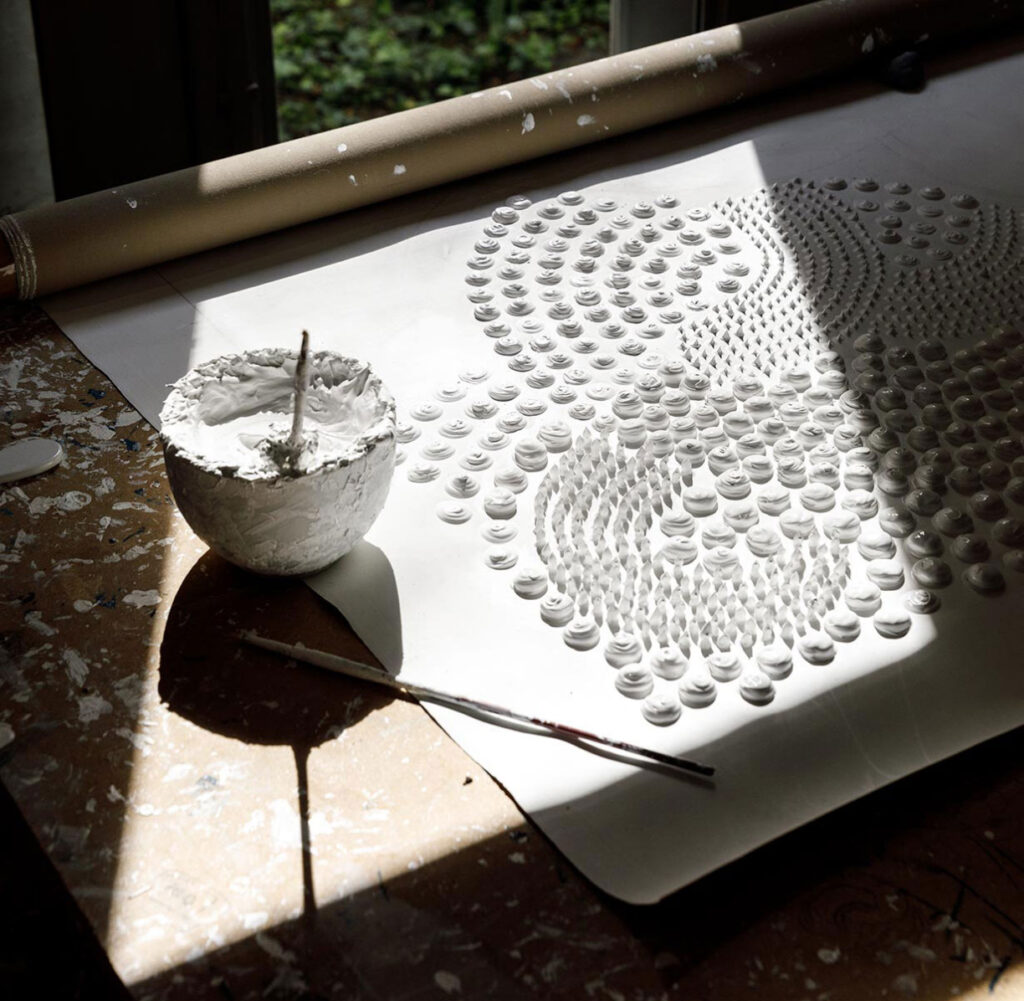 Each painting emerges from a demanding process that requires time, patience and precise awareness. There is not a single droplet too few or too many. Pleasure and a desire for perfection blend together, and find their culmination in this precise and relentless gesture, captivating and meditative like a Philip Glass song.
Jane explores forms along with new, ever-changing worlds, as an excuse to paint Ad Infinitum in order to reproduce what will never freeze and is always renewed: LIFE.
Y.D